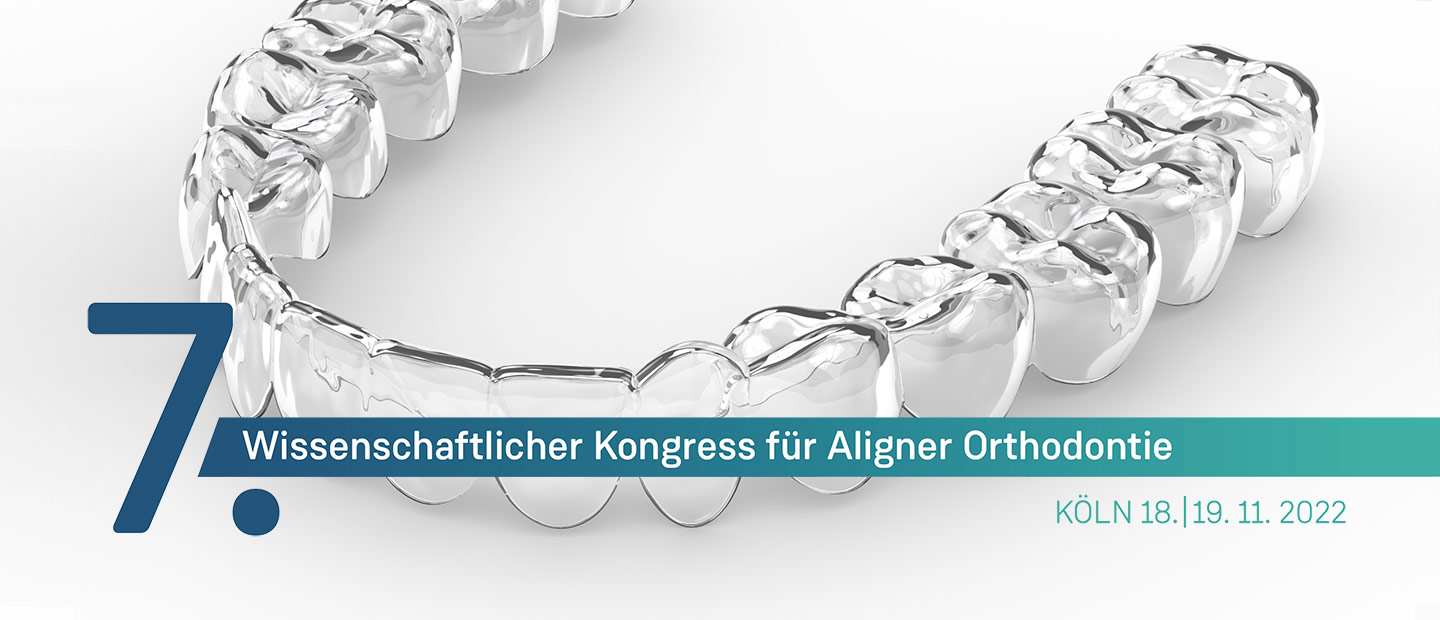 The DGAO Congress for Aligner Orthodontics
Every two years, the DGAO organizes a scientific aligner congress that presents the different systems, the latest scientific findings and practical experience from internationally renowned speakers. The accompanying industrial exhibition offers a comprehensive overview of the current products for all aspects of aligner therapy.
Dear Sir or Madam,
what is certain is that nothing is certain. Not even that[1]. If you had been asked in 2019: Can our lives be changed forever if a person in Wuhan coughs, you would have put this question in the same category as: Can a butterfly flapping its wings in Brazil trigger a tornado in Texas?[2]. Her first "no" would have been refuted by reality, however. Perhaps the only positive thing about this whole C mayhem is that our complacent safety has been somewhat challenged.
But despite all the confusion, our everyday life went on - somehow. We have protected our fellow human beings and ourselves, treated our patients and educated ourselves through reading (Journal of Aligner Orthodontics) and digital lectures (1st Virtual DGAO Science Congress). Certainly nothing was the same as before, and we certainly missed the direct human contacts (private and professional). Now, however, there are good signs that we can return to a new but different normal.
Certainly part of this normality is the 7th Scientific Congress for Aligner Orthodontics, which will take place on November 18th and 19th in Gürzenich in Cologne, as in the past, as a face-to-face event and taking into account all conceivable hygiene measures. But if that's not safe enough, or if you prefer the digital version for other reasons, you can (again) participate remotely. In any case, you are all cordially invited by the entire board of the DGAO. As always, we have made the greatest effort with the program design in order to present to you the knowledge, insight and experience that has been accumulated in spite of all the adversities.
So even if almost nothing is certain, the DGAO is absolutely certain that this congress is worth attending!
[1] Joachim Ringelnatz (1883 to 1934)
[2] Edward N. Lorenz: Predictability: Does the flap of a butterfly's wings in Brazil set off a tornado in Texas? Title of presentation given in 1972 at the annual meeting of the American Association for the Advancement of Science; according to Science 320, 2008, p. 431
DGAO Congress 2022
18.11. – 19.11.2022 | Cologne
17.11.2022/XNUMX/XNUMX | Digital pre-conference
2-day specialist conference on aligner orthodontics

25+ specialist lectures on the subject of aligner therapy

30+ trade exhibitors of aligner therapy

650+ trade visitors of orthodontics

Presentation of the DGAO Promotional Prize 2022
You can find more information in the accompanying program booklet.
With 28 speakers, 250 participants and 18 exhibitors, the 1st Scientific Congress for Aligner Orthodontics of the DGAO eV started in November 2010 in Cologne's InterContinental, today the Dorint Hotel am Heumarkt. A success across the board.
Since then, four more face-to-face events have followed with steadily increasing numbers of participants and exhibitors, which resulted in a move to Cologne's Gürzenich. Most recently, due to the pandemic, the 1st Virtual Congress was held, at which the DGAO welcomed 700 international participants. A unique, interactive 3D exhibition platform crowned this first digital event.
This year, the DGAO eV is organizing a hybrid congress in Cologne's Gürzenich, at which numerous renowned speakers will once again present their scientific contributions to the international audience. An extensive industrial exhibition and the gala evening at SkyKöln complete the program.